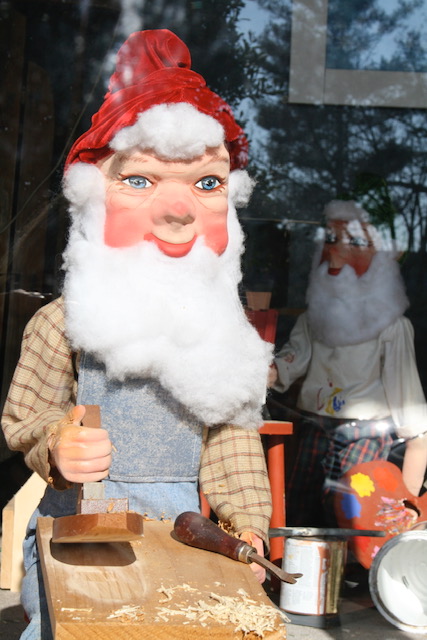 Thomasville celebrates in a very merry vintage way…
Close your eyes and picture the 60s, where many of the homes were filled with aluminum Christmas trees, bubble lights, stringing popcorn, satin and styrofoam ornament balls, and bubble lights. Children gathered around in their matching footie pajamas while they watched the train go around the Christmas tree.
Every year, the holiday season is a time to revisit family traditions that have been going on for generations. Whether it's watching Rudolph the Red-Nosed Reindeer or baking cookies with your mom, the month of December offers many chances to relive the past.
Today the Thomasville Beautification Committee is bringing the memories of yesterday back to Thomasville with the help of Lou Nasti Mechanical Displays Inc. Mr. Nasti, also known as Mr. Geppetto, was discovered by Denise Barnes of the Thomasville Beautification Committee. After seeing a special segment featuring the works of Mr. Nasti, Denise's instant mission was to contact him through mail. Little did she know how well her letter would be received by the the man who she believed could create magic in our city. The said letter was accompanied with photos that very quickly peeked an interest and memory within Mr. Nasti. Soon the committee would receive a response filled with excitement. Mr. Nasti explained of his planned involvement with two of the displays he had claimed the work to be his own. This past April Mr. Nasti would visit the city of Thomasville. Stories would be told of the 1960s to the 1990s that featured the historic Christmas decor that once graced the windows of the old Belk building on East Main and Commerce Streets, this building is now home to Thomasville Emporium.
"Christmas waves a magic wand over this world, and behold, everything is softer and more beautiful." ―Norman Vincent Peale
Who is this man they call Mr. Geppetto? The interior of the 15,000-square-foot factory/workshop is Mr. Nasti's home away from home. East Flatbush Brooklyn is the very place where all this magic takes place. A temporary home for all the figures that long to be brought to life in a new location. "I'm going to make magic," Nasti confirmed during the meeting that was organized by The beautification Committee. A plan well thought out, new electronics and new movements will reinvent the old. A new design will breathe to life a magical Christmas wonder from many years ago. Proven just by all the plans to his design reveled to those who participated with this organized meeting. Three windows will be completed, two of which will be of his past. Each will be themed and two larger pieces will be displayed at other locations. The Beautification Committee is excited to announce an element that will add a special note to all who arrive to partake in all its magical wonders. You will happen upon Pinocchio, fully animated and ready to tell you a story. This is an added element to bring to life through its life size appearance. You are also invited to enter the Thomasville Emporium to further view displays of Christmas.
Click through the sketches that will become the three displays here in Thomasville. Presented at the Beautification Committee's meeting that took place in order to introduce this project. The drawings are the footprint for what Mr. Nasti will introduce to Thomasville starting this November, as the build begins.
As the season for giving is soon upon us, we reflect on the importance of family. We reflect on creating new memories while remembering in our hearts the old. Help this cause become the memories of tomorrow for many many years ahead. Get ready, Thomasville, to embark on a beautiful addition to our community. 2019 will be the year that those once beautifully decorated windows will once again be restored to their intention and admired by all who shop and visit downtown Thomasville. Will you be part of this adventure?
Merry Christmas in July to all who wander among the presence of hope, a great big THANK YOU to all who have donated to this wonderful cause. Thank you to all who are in the process. There is much appreciation towards The Beautification Committee for igniting this special addition to downtown Thomasville. You have promised this community and visitors something special this holiday season and many years to come. The hands of giving make our hearts warm!
** Photos have been provided by The Beautification Committee, David Yemm and Doreen Levers. Blog written by Doreen Levers